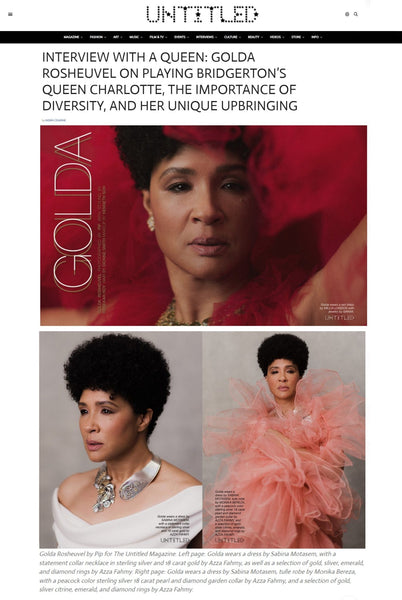 Move your mouse over image or click to enlarge
Golda Rosheuvel of Bridgerton wears the Marceline dress
@GoldaRosheuvel
 of 
@BridgertonNetflix
 looks incredible in our Marceline dress, in a specially styled shoot worn under a pink tulle robe by Monika Bereza and statement jewellery by 
@azzafahmy
 . Love how its styled as off-the-shoulder by 
@RebekahRoy_
. Bridgerton is one of Netflix's most diverse and popular shows of all time. Read the full interview by 
@IndiraCesarine
 online on 
@TheUntitledMagazine
It's not every day an actor gets the opportunity to play a queen, but Bridgerton's Golda Rosheuvel has taken on the task with gusto. As Queen Charlotte, Rosheuvel found it easier than you would imagine to perform as such a royal character, owing to her unique background and upbringing.
The diverse casting of the show, which is one of 
@Netflix
's most popular originals of all time, has paved the way for immense progress in the entertainment industry with regards to representation. This exclusive comes just in time for the release of the 2nd season which premieres today!